Welcome to Healthy Grand County!
We are happy to provide you with the latest local health care news and an opportunity to explore health resources available in Grand County.  Being healthy – and staying healthy – encompasses many things, and we hope we've covered it all. Feel free to click below for various resources and check out all that Grand County has to offer. You just might be surprised!
---
Don't have health insurance? We can help!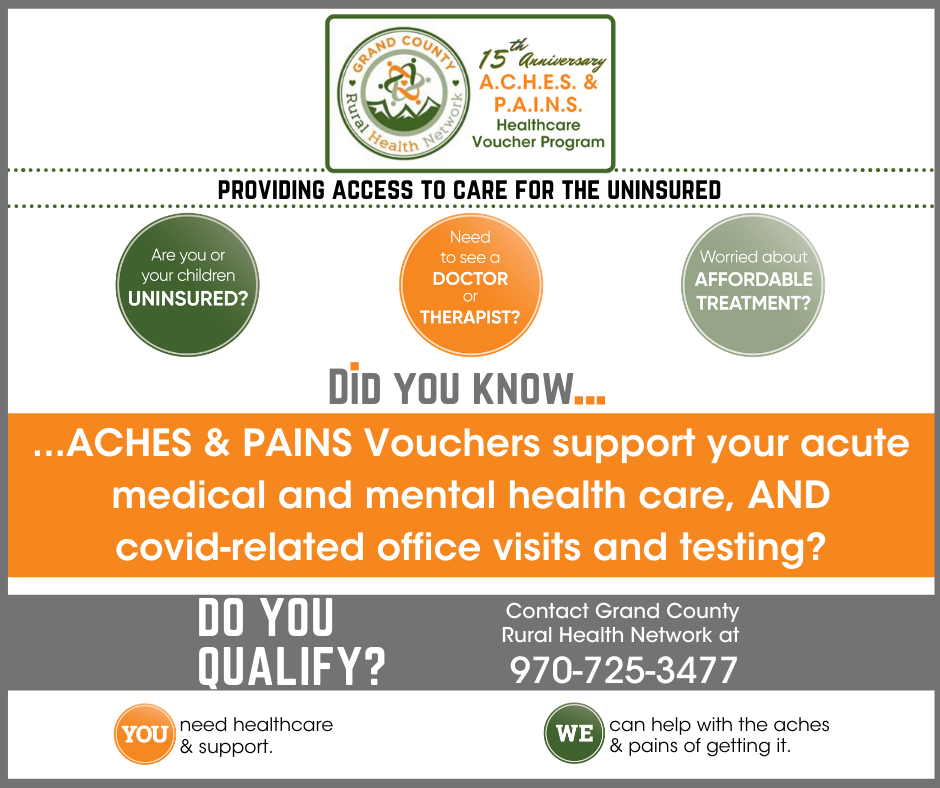 We can help! ACHES & PAINS Vouchers are available for uninsured children and adults who qualify financially through Grand County Rural Health Network. For guidance on Covid-19 tests, please call your health care provider, your child's school nurse, or our office at 970-725-3477.
---

Who is HHRC?
For the past 7 1/2 years, local health and human service agencies have been partnering to make changes and respond to community needs. We are actively working together to address systems and processes for our community to handle the COVID-19 pandemic. Community updates will be provided regularly to communicate to everyone how they can do their part to help those in need during this time of crisis. As plans are developed, we plan to communicate them with our community via these "HHRC Updates" on this HealthyGrandCounty.org website and Grand County Rural Health Network's Facebook page (@gcrhn). We encourage social media users to share the information with other users and most importantly, to those individuals who you feel could benefit from assistance from the local agencies.
Stay tuned and stay healthy!

---
---
---
---
---
---
---
---
Grand County Health Resources
Click on any of the areas below that may be of interest to you to learn more: