COVID-19 HHRC Update: Vaccine Update
February 19, 2021
Information shared from Grand Country Public Health https://www.co.grand.co.us/COVID19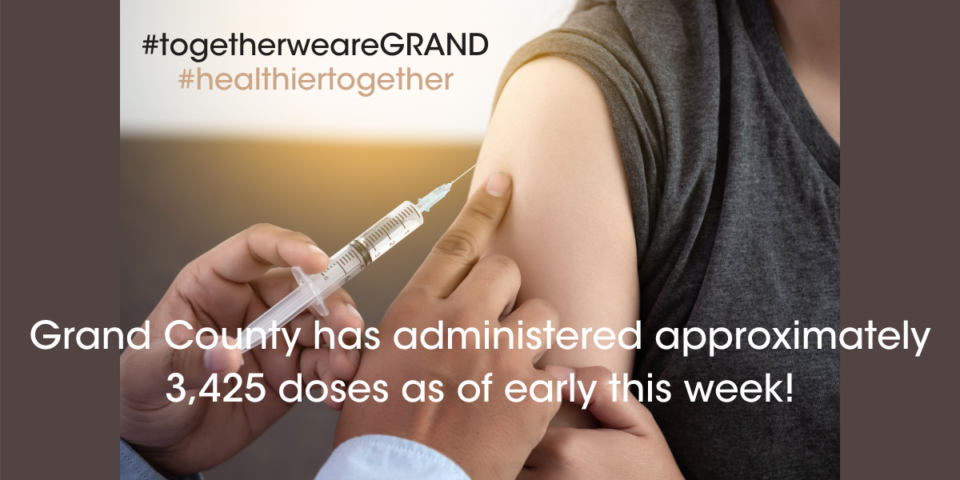 So far, clinics in Grand County have administered around 3,425 doses as of early this week. These totals include 1st and 2nd doses.
Grand County is currently vaccinating phases 1A, 1B.1 and 1B.2. Unfortunately, due to the inconsistent vaccine deliveries and limited vaccine supply, it is taking longer to vaccinate all eligible individuals than we would like. Furthermore, because we are now over a month into the vaccine distribution process, our local providers are also having to balance the need for both 1st and 2nd doses in each vaccine shipment. Accordingly, we ask for your patience in getting an appointment, and we will reach out to you when we have a vaccine for you.
Regarding second doses, the CDC states that 2nd doses of COVID-19 Vaccine may be administered 28 to 42 days post 1st vaccination. We will work to make sure you receive your 2nd dose within that time frame. Nevertheless, if you received your 1st vaccine in Grand County, the provider you received your 1st vaccine at will contact you when they have a 2nd dose available for you. You do not need to call them to be scheduled, they will call you.
The Grand County Individual Vaccine Registration Form remains the best way to get your name on the list to be vaccinated locally. The local providers have access to this list and check it regularly to see who is registering under their clinic. Especially for Middle Park Health and Grand County Public Health, you do not need to be a patient of theirs to register for a vaccine from them.
If you are looking for alternate ways to get the vaccine and are not opposed to traveling, please note that COVID vaccines do not need to be given in your county of residence. If you are willing and able, and you meet the phase qualifications, you may go to the front range to get a vaccine. Various pharmacies, such as Walgreens, CVS, Safeway, and King Soopers, are offering vaccine appointments. In fact, our local City Market may have vaccine appointments available. Please keep in mind that you should, if at all possible, get your 2nd dose at the same location you got your 1st dose. This is imperative if you get the Pfizer vaccine as Grand County does not offer the Pfizer vaccine.
It is also important to note that vaccine shipments have been delayed due to extreme weather in the last week across the nation. This has impacted many organizations' ability to plan and distribute vaccines this week and possibly next week. Appointments will be made as soon as more vaccine is received.
Vaccine FAQ
To aid in answering common questions, Grand County Public Health has created a Vaccine FAQ. Middle Park Health has also created their own MPH Vaccine FAQ. Please check out these documents to quickly find the answers to some of our most common questions. If you have a question you believe should be included in the FAQ, please email [email protected].
Virtual Meetings
The COVID pandemic has been going for nearly a year now, and it is safe to say that we are all sick of it (no pun intended). That being said, the COVID-19 virus does not appear to be done with us just yet. Now is not the time to let our guard down and forget all the protective measures we have been implementing for so long that help us stay open.
Please remember to follow these basic protections wherever you go: masking, washing hands, social distancing, continuing to stay in small groups, limiting personal interaction between groups, not going out in public when we are sick.
Additionally, it is still best to meet virtually whenever possible. Small indoor, in-person events (including meetings) are allowed under Event Guidelines and with prior approval through Grand County's Compliance Verification Form. However, if a virtual option is feasible, it should still be utilized as a means of promoting public health and safety as well as inclusivity of individuals who cannot, or wish not to, attend in person.
Scam Warning
A number of our at-risk community clients have been contacted by people saying that they are Grand County Public Health or the Grand County  Rural Health Network, and that they needed the client's Social Security Number and Debit Card information to get them a scheduled appointment for a COVID-19 vaccination. DO NOT GIVE OUT THIS INFORMATION and report the call to the Grand County Sheriff's Office at 970-725-3343.