COVID-19 HHRC Update: Grand County Board of Health Votes to Move to Safer at Home Level Orange
November 12, 2020
Information shared from Grand Country Public Health https://www.co.grand.co.us/COVID19
GRAND COUNTY, CO – On November 12, 2020, the Grand County Board of Commissioners, acting as the Grand County Board of Health, voted 2-1 to move Grand County into Safer at Home – Level Orange until at least November 30th in accordance with the guidance of Grand County Public Health (GCPH). This decision was made with the hope that this action will help Grand County get a handle on its rising disease spread before the winter season. The decision was made during a meeting held with mayors, town managers, town trustees, business owners, and the public to discuss the current state of COVID-19 and how we can respond as a county. Many points of view and comments were taken into consideration prior to the vote. Ultimately, the decision was influenced by the desire to keep control of our COVID-19 response at the county level and not defer to the state. Safer at Home Level Orange entails the following: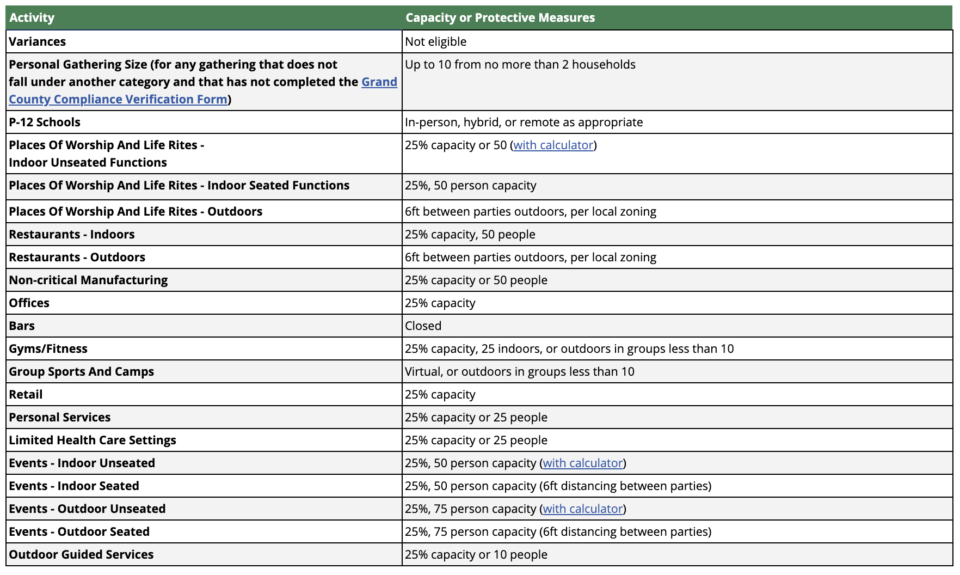 The move to Level Orange for 18 days will allow the county leadership to finalize a mitigation strategy to be implemented across the county for the purposes of reducing COVID-19 disease, preventing further surges in cases, and maintaining business operations at consistent levels for the next 6 months.
On the heels of this decision, Grand County Public Health was notified of 21 new cases in the previous 36 hours and the number of people currently on quarantine or isolation reached 534. In addition, local healthcare facilities were notified that multiple front range hospitals could not currently accept transfers of ill patients from Grand County. These situations make this difficult decision all the more timely.
Safer at Home – Level Orange will go into effect immediately. However, it was decided that if your business is reliant on hunting operations then you may have until November 22 to comply. GCPH will follow up with an amended Public Health Order in the next few days to solidify changes in restrictions and capacities. The Mitigation Plan will be finalized on Tuesday, November 17.
Together we are Grand, and together we will get this COVID-19 disease under control through local community action!