COVID-19 HHRC Update: Situational Update, Case Count and Other Data, and What Can You Do To Help?
July 17, 2020 7:00 pm
Information shared from Grand Country Public Health https://www.co.grand.co.us/COVID19
COVID-19 Update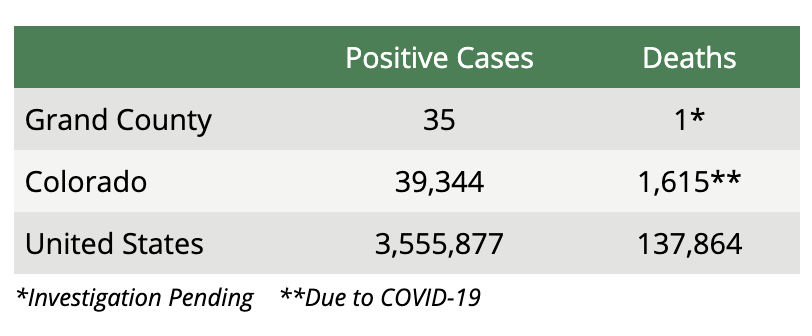 Situational Update
Cases of COVID-19 in Grand County continue to trend upward. As of today, we have a total of 35 positive cases among Grand County residents, 13 of which tested positive within the last two weeks, keeping Grand County in "High Disease Activity". In the past week, Grand County Public Health was notified of 7 positive test results and another associated case. Grand County also has two confirmed positives that have been hospitalized. One has been released and is recovering at home, one is currently hospitalized and in stable condition.
Community members must be vigilant in following the protective measures in place and follow the new Statewide Mask Order the Governor announced yesterday. The fight against COVID-19 is much more than case numbers; other metrics such as sufficient hospital bed capacity, sufficient PPE supply, sufficient testing capacity, the ability to implement case investigation and contact tracing protocol are also impacted when we see upward trends. 
Case Count and Other Data
The case count provided is the total number of confirmed positive COVID-19 test results since the first confirmed positive test result on March 17th. GCPH does not report recovered cases because there is not a good working definition of "recovered" cases. With COVID-19, some people can feel better, then worse, or have long term health effects after their infection.
GCPH cannot provide town/locations of current positive cases to ensure their privacy. GCPH follows HIPAA policies and has the option to be stricter than federal HIPAA policies. We choose to have policies that are stricter due to our very rural environment and small numbers of cases. We chose to identify the towns in a recent post because our numbers have increased and there is less potential to identify cases. If a case chooses to tell people they are positive that is their choice, but we will never identify a case name, not even when we are contact tracing, to anyone. From lessons learned throughout the years, broadcasting where a case is from in the county can identify and make that person a target.
With all this being said, we do understand the importance of providing more data to the public. GCPH is currently in the process of creating a public dashboard that will provide a visual aid to assist with tracking the metrics for COVID-19 in Grand County. The data that will be included in this dashboard is the same data that will qualify Grand County for "Protect Your Neighbors".
What Can You Do To Help?
We all have a role to play in limiting the spread of this virus. Containing the spread of COVID-19 will require committed action from the entire community. Follow the five commitments below, and together we will #StayHealthy and #StayOpen:
I will maintain 6 feet of distance from anyone not in my household.
I will wash my hands often.
I will cover my face in public.
I will stay home when I am sick.
I will seek testing immediately and self-report if I experience symptoms.
Thank others (including strangers) you see in public who are wearing face coverings. Shop at and promote local businesses that are taking COVID-19 precautions seriously. In addition, please avoid the 3 C's: closed spaces, with poor ventilation; crowded places, with many people nearby; and close-contact settings, such as close range-conversations.