COVID-19 HHRC Update: What is Safer at Home?, Business Compliance, Travel, and Safer at Home FAQs
May 1, 2020 6:00 pm
Information shared from Grand Country Public Health https://www.co.grand.co.us/COVID19
COVID-19 Update
Because clinical diagnoses can be made based on symptoms and evident exposure without performing a test, the number of positive cases reported may increase without an equivalent increase in tests performed.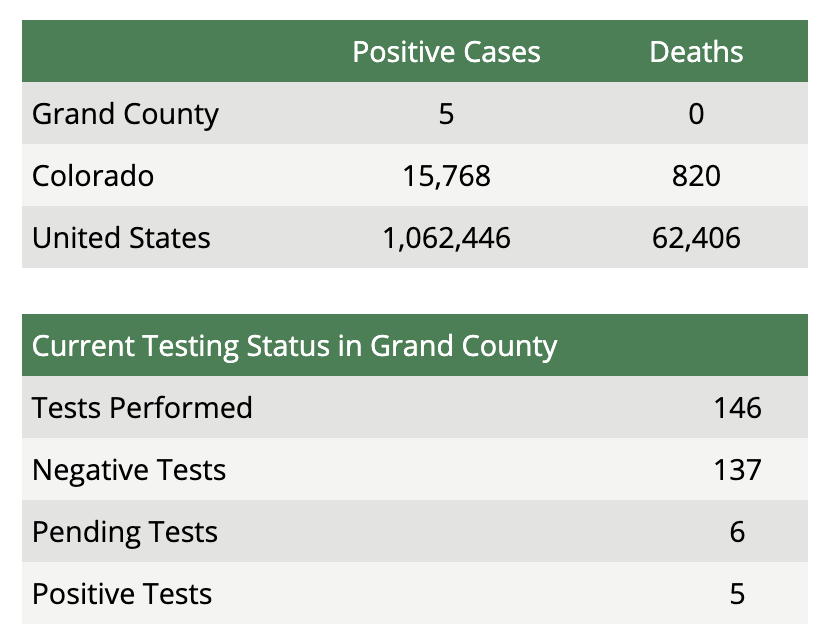 What is Safer at Home?
Coloradans are no longer ordered to stay home but are strongly advised to stay at home. The change from Stay-at-Home to Safer at Home is about establishing a more sustainable way of living for Coloradans during this pandemic. While at the Safer at Home level, it is still important for Coloradans to continue staying home as much as possible. Critical businesses are open, and limited non-critical businesses are operating with strict precautions in place. If you need to go out, you should follow physical distancing requirements (6 feet of space between yourself and others) and wear a face covering for necessary activities like grocery shopping. Scarves and bandanas will work as coverings as long as you wash your face covering regularly. All workers must wear medical or non-medical face coverings that cover the mouth and nose while at work, except where doing so would inhibit their health. Vulnerable people at high risk of severe illness from COVID-19 should follow Stay-at-Home recommendations, which means only leaving home for medical care and essential activities.
Business Compliance
Any business, public or private gathering, or organized recreation that intends to open or take place while any of state and local public health orders remain in place must also comply with the Grand County COVID-19 Mitigation and Suppression Plan. In complying with that plan, businesses, employers, and sole proprietors shall submit a Compliance Verification Form through Grand County Public Health and display approved acceptance documentation prior to opening and receiving customers. Beginning on May 1, Non-Critical Retail will be able to allow customers onsite if they are in accordance with mandatory Social Distancing Requirements, similar to the requirements for critical retail. Personal services that are in compliance with Safer at Home requirements can resume as well under strict guidelines. The COVID-19 Compliance Verification Form can be found on the Grand County website at co.grand.co.us/saferathome.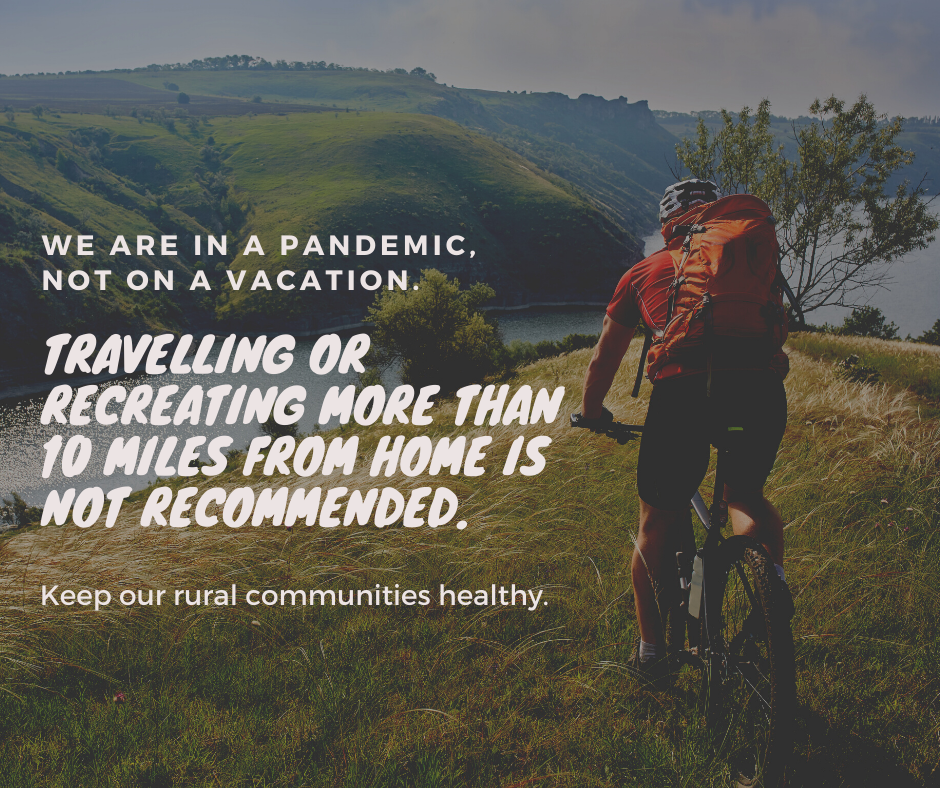 Travel
We are asking Coloradans to follow the orders and not try to find loopholes. As the governor has said time and again, we are in a pandemic, not on a vacation. Travelling more than 10 miles from your home for recreation can stress hospitals in smaller communities. Both the Executive Order and Public Health Order have flexibility around the 10-mile recommendation as it may not be practical in every part of the state (e.g. less populated areas where residents need to travel further for critical retail and critical services). Please do not take a "Colorado vacation" or go to your second home. Limit activities to your immediate community and do not travel to mountain areas or the Western Slope. This is to prevent disease spread and keep our rural communities healthy.

Safer at Home FAQs
We are aware that the public has many questions related to Governor Polis' Safer At Home Executive Order and the associated CDPHE Safer At Home Public Health Order. Thankfully, the State has created a webpage to address many of those questions. Visit the Safer At Home FAQ page at covid19.colorado.gov/safer-at-home-faq. Please be safe and have a healthy, happy weekend!!