COVID-19 HHRC Update: COVID-19 Update, Variance Request, and Antibody Testing FAQs
May 13, 2020 6:00 pm
Information shared from Grand Country Public Health https://www.co.grand.co.us/COVID19
COVID-19 Update
Because clinical diagnoses can be made based on symptoms and evident exposure without performing a test, the number of positive cases reported may increase without an equivalent increase in tests performed.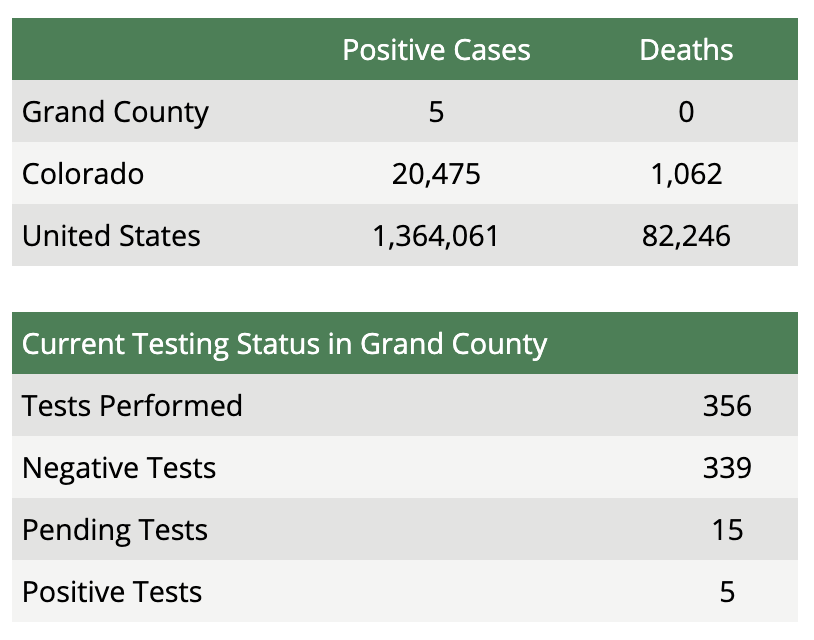 Variance Request
A county variance request essentially asks the state to allow the Grand County Public Health (GCPH) Director to make local decisions on guidance and restrictions. It does not mean that every business and every citizen will be free to do as they wish. We took input from each industry, combined it with their regulatory agency when appropriate, and addressed any public health concerns. Please note, in some cases, the variance request is broader than what the businesses may experience on "opening day" as we tried to build them broad enough to withstand the next few months, or phases of the state orders. If our request is accepted by the state, the GCPH Director will issue a Public Health Order that will largely parallel, but may have some tighter restrictions for the first period of this step. A variance request is merely a tool that allows the flexibility to increase and decrease restrictions as needed. The Grand County request is asking for a variance for four sectors: recreation, restaurants, places of worship, and lodging.
Antibody Testing – FAQs
Q: What's the difference between an antibody test and a test for COVID-19?
A: A test for COVID-19 detects the presence of the virus itself whereas an antibody test detects antibodies to the virus. Antibody tests can show that a person had an infection in the past. But, it's possible for people who still test positive for COVID-19 through a viral test to also test positive for antibodies. Medical providers should not use antibody tests to determine if a person has COVID-19.
Q: Do antibody tests for COVID-19 work?
A: Many commercial antibody tests are not accurate and therefore can be concerning. Medical experts don't know yet if antibodies to COVID-19 will protect people from future infections. Researchers are working to learn if antibodies will be protective, and if they are, how long they would last or how many antibodies would be necessary to fight COVID-19. In addition, the virus can change or mutate as it travels from person to person and country to country. This is what happens with the flu virus and is the reason we need a new flu vaccine every year.
Q: Why is it so hard to create an accurate, high-quality antibody test?
A: COVID-19 is a disease that stems from a type of virus called a coronavirus. Coronaviruses are very common. Some of them cause familiar illnesses like the common cold. But the specific coronavirus that causes COVID-19, SARS-CoV-2, is highly infectious and can be dangerous or deadly. Some inaccurate antibody tests are resulting in what are known as "false positives." These tests may be detecting other coronaviruses, but not SARS-CoV-2. Be very cautious about results from an antibody test as well as antibody testing in general.
As we move forward, it is important to continue complying with the following guidance:
> Wash your hands frequently
> Cover your face in public
> Only gather in groups smaller than 10 people
> Stay socially distanced from others
> Stay home if you're sick